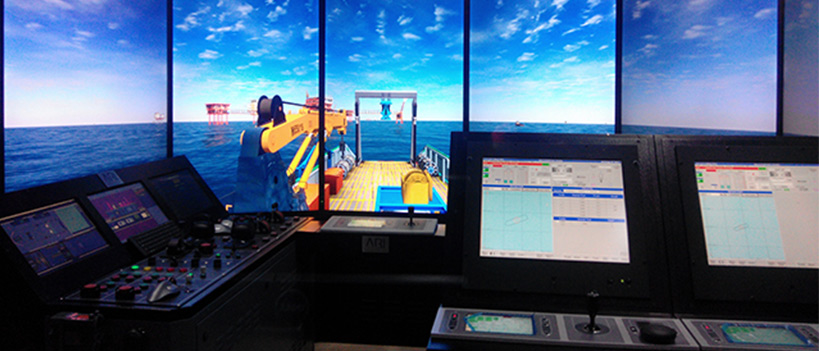 What is Dynamic Positioning?
.
Dynamic positioning, commonly known as DP allows a person to maintain the heading and position of a vessel with the use of its thrusters and propellers. It is a computer controlled system that uses inputs of gyrocompasses, motion sensors and wind sensors combined with position reference systems. Dynamic positioning counters the environmental forces acting on the vessel by the means of active thrust.
---
.
.
DP Training at ADPC
.
The only state of the art Dynamic Positioning centre (NI Accredited) located amongst most vibrant / lively cosmopolitan atmosphere at Vashi, N.Mumbai, with best connectivity from all means of transport (ie Road / Train / Airport), surrounded by various stay options in walkable range (as per the budget),  equipped with Class A Full mission Simulator (GE/Converteam) & Kongsberg(replica) providing complete range of training solutions. The centre is managed by industry veterans, NI Accredited instructors with vast experience in Offshore / DP / Marine domains
.
DP Training Faculty at ADPC
.
Apart from the various DP training courses that we provide, ADPC also believes that the faculty teaching these courses can make or break someone's future. To ensure that the future of every individual is bright, ADPC ensures that the DP training faculty is of top grade.
Our DP training centre at Vashi promotes quality learning through various interactive and simulator based practical training modules. We, therefore, believe in our DP training faculty to instill the right theory and practical approaches that can help an individual in learning the best methods and techniques, which will make him extremely competent in the Dynamic Positioning industry.
.
Once the course is completed, every candidate should be able to do the following:
.
Set up as well as monitor the DP system.
He/She should be able to identify the different alarms for position reference systems, sensors, power plant, Thrusters, etc.
Exhibit the fundamentals of Dynamic Positioning.
Set up, operate and monitor the DP system as well as all other equipments associated with it.
He/She should be able to use all the operational modes of the Dynamic Positioning system.
He/She should be able to do basic troubleshooting and maintenance of the DP equipment.
.
Testimonials
.
Usually, the courses at every institute are similar but the faculty is what creates the difference. At Aquanaut Dynamic Positioning Centre, the DP training faculty believes in inculcating every candidate with the right knowledge and skill. This enables each and every person to learn the right methodology. Those who don't get it right are always attended to so that no one is left behind. No student could ask for more.
– Navtej Singh Hans
Great experience doing DP Basic course in Aquanaut Dynamic Positioning Centre as teaching is excellent by Capt. Kamaljeet Grewal. I have learnt a lot about DP System
– Krishna Kumar Baruah
Good infrastructure and very nice facilities. Instructors are friendly while teaching and excellent. I learned more than the syllabus and got a chance to operate the vessel in the Full Mission Simulator. I will recommend all my friends personally for DP course in Aquanaut
– Srinivasan S
Beside course content learned more due to instructors experience about offshore industry
– Sachin Prakash
Best facilities and way of teaching. Excellent atmosphere. If you collect facebook id's from the candidates and make a facebook page and add people and post your advertisement it will reach more people and personally I will recommend Aquanaut to my colleagues
– Nijo Jose
ADPC offers various courses in Dynamic Positioning :
.
.